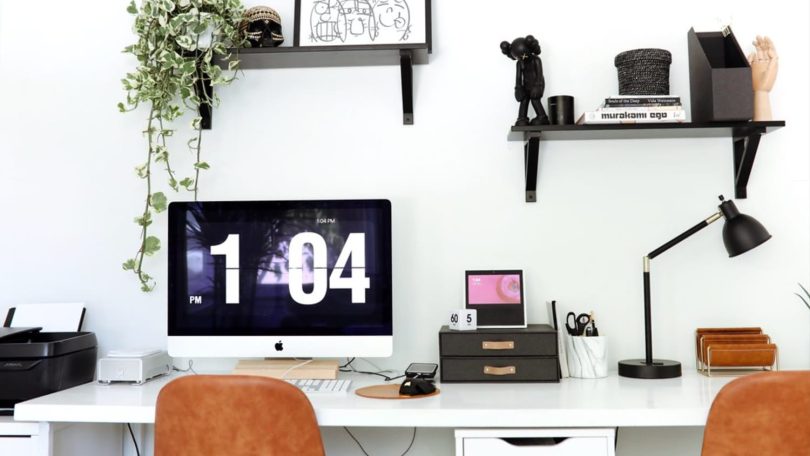 Amazon is the go-to spot to find the must-have items for your desk. We're here to provide you a list of some of the best things off of Amazon to leave others wishing they had your desk!
This memo board has a spot for your phone to hang/charge on and leaves you room to post sticky notes, reminders, agendas & pictures! For under $7, you can always have your notes, goals, family pics, etc., right in your vision. The easy removal will leave your computer free of marks & residue as well. 
https://www.amazon.com/Jishi-Holder-Novelty-Gadgets-Organizer/dp/B09PBGH1YT/ref=sr_1_6?keywords=Cool%2BOffice%2BAccessories&qid=1669738256&sr=8-6&th=1
We know there are many golf lovers in the office… so this one's for you! This neat gadget will leave all of your co-workers jealous, especially golf lovers. It comes with three pens which all write in different colors & look like golf clubs. Those go into a holder which looks like a golf-pull cart! It's just what you need on your desk to get you excited for the weekend (or evening) of golf you have planned!
Blue Light Blocking Glasses:
https://www.amazon.com/Blocking-Glasses-Computer-Reading-Eyestrain/dp/B07W781XWF/ref=sr_1_1_sspa?crid=7PYY8DXQUKAJ&keywords=bluelight+glasses&qid=1669739098&s=electronics&sprefix=bluelight+glasses%2Celectronics%2C84&sr=1-1-spons&psc=1&spLa=ZW5jcnlwdGVkUXVhbGlmaWVyPUEzU1NTRDQ5U1gxTFpMJmVuY3J5cHRlZElkPUEwOTgxMTgzTEZYS1RHTzIwNU9TJmVuY3J5cHRlZEFkSWQ9QTEwMzQzNjgzMjYzNFVXT1RFOE1ZJndpZGdldE5hbWU9c3BfYXRmJmFjdGlvbj1jbGlja1JlZGlyZWN0JmRvTm90TG9nQ2xpY2s9dHJ1ZQ==
We all spend lots of time on the computer, and we've all had that occasional eye strain that leads to headaches or visual fatigue. These glasses are designed to allow you to look at your computer for an extended period without the side effects it can cause to your eyes/head! Enjoy your digital time with these light/weight and cost-effective glasses. 
This coffee mug warmer is all you need and MORE. This intelligent gravity-induction mug warmer will keep your warm beverages at just the right temperature for as long as you desire. The gravity induction technology activates when you place your cup on it and shuts off when your mug is removed. While this comes with a ceramic mug, feel free to use your own mug on it! 
Desktop White Board Computer Pad:
https://www.amazon.com/Quartet-Whiteboard-Desktop-Computer-GDP186/dp/B01M2DADUX/ref=sr_1_4?dchild=1&keywords=desk%2Bdry%2Berase&qid=1610130997&s=office-products&sr=1-4&tag=theeverygir-6-bg-20&th=1
If you need help remembering the little (or big) things throughout your work week, this is all you need to keep you aware and prepared for everything you have scheduled. This board fits perfectly underneath your desktop or right in front of your keyboard! It's angled so that you can comfortably write on the board & have it in your view at all times while on your computer! Make sure to attend every meeting again with this nifty board. 
https://www.amazon.com/JZCreater-Desktop-Rotation-Personal-Table%EF%BC%8CBlack/dp/B094RC8MSK/ref=sr_1_3?crid=1L45U3OOBDK0T&keywords=mini%2Bdesk%2Bfan&qid=1669739811&s=home-garden&sprefix=mini%2Bdesk%2Bfan%2Cgarden%2C94&sr=1-3&th=1
If you tend to be on the warmer side in the office, this fan will be your saving grace! It fits right on your desk and has a USB plug-in to put directly into your computer. It's lightweight and known to be "ultra-quiet" so that you aren't bothering anyone around you. There are three-speed levels to provide you with the ultimate comfort! 
4 Pocket-Cubicle Mount File Document Organizer 
https://www.amazon.com/dp/B07BMM41LS/ref=as_li_ss_tl?pd_rd_i=B07BMM41LS&pd_rd_w=UsJyD&pf_rd_p=48d372c1-f7e1-4b8b-9d02-4bd86f5158c5&pd_rd_wg=pQqrq&pf_rd_r=ZQ00AA6CXSTJBZXQFZ61&pd_rd_r=6d03bc46-9274-4c96-a0be-3c51c18fb75b&spLa=ZW5jcnlwdGVkUXVhbGlmaWVyPUEySENMV0szMk9FM0ZHJmVuY3J5cHRlZElkPUEwNjA2MTA2MzNLUkkwSFBFSUJPQyZlbmNyeXB0ZWRBZElkPUEwODA2ODMzRTY5VFlNNDA3SVg5JndpZGdldE5hbWU9c3BfZGV0YWlsJmFjdGlvbj1jbGlja1JlZGlyZWN0JmRvTm90TG9nQ2xpY2s9dHJ1ZQ&linkCode=sl1&tag=beastlocal-20&linkId=f904c598abd5178fa297db46d9a2767e&language=en_US&th=1
Clean up some space on your desk with this file document organizer holder! It easily hangs over your cubicle wall and is perfect for organizing those messy documents you have lying around your desk. It spruces up your cubicle & comes in both a grey fabric and a clear window pocketed holder!